In-Person Tiny Twinkles Classes!
Located in the heart of Downtown Dartmouth at St. James United Church Hall - 183 Portland St. Map Link
40 minute class on Thursday mornings from 10:15 - 10:55 am
For children ages 0-5 along with their caregiver
$60 Monthly Tuition (tuition will be prorated for those joining mid month)
Families with siblings receive a 10% discount
Register HERE to reserve your spot!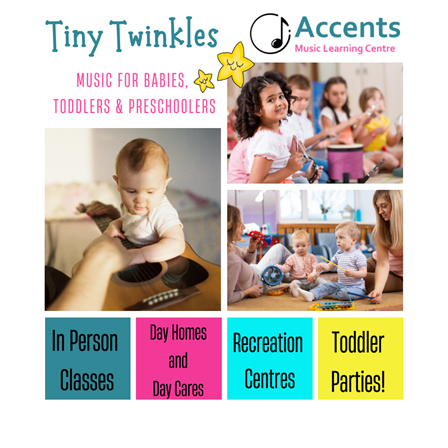 Our Tiny Twinkles program is a fun, interactive, music class for babies and children ages 0-5. Our experienced teachers will engage with the students through sing-a-longs, dance and movement, story telling, instrument sharing and more!
What they will gain:
♪ Gross and Fine motor skills
♪ Language skills
♪ Self expression and Creativity
♪ The foundations of rhythm, movement and singing
♪ New friendships
---
Tiny Twinkles Parties!
Our teacher will come to you for an in-home Tiny Twinkles Music Class!

For children ages 0-5



Packages:
40 minute interactive music class: $70
60 minute interactive music class with a musical craft (all supplies provided): $110
*Additional fees may apply: Travel fee over 10km; Supply fee over 10 guests
Contact Us at 902-932-7062 to book your Tiny Twinkles Party!
---
♫ The Tiny Twinkles Program is also available for Day Homes, Daycares, Recreation Centres and Parties!
Contact Us to discuss how this wonderful program can be brought to your organization or event. ♫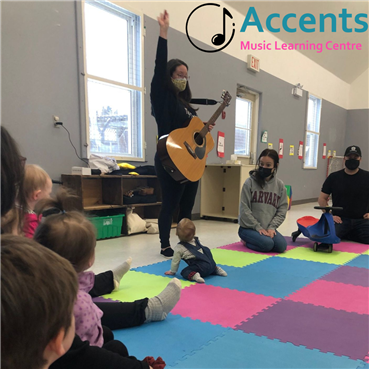 Miss Erin having fun at a Tiny Twinkles Class!