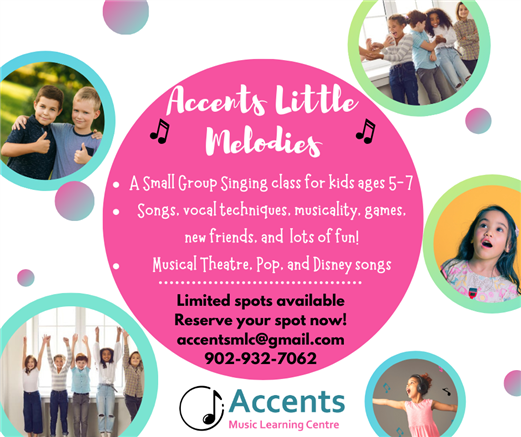 Accents Little Melodies:
Your child will learn the joys of singing and have oodles of fun in this small group class for children ages 5-7. The class size is kept small (maximum of 6 students) so that the children receive a true voice lesson experience while learning with their peers. Little Melodies Singers will learn healthy vocal techniques, music theory through fun games and activities, songs from various genres of music, self confidence, and participate in public performances throughout the year!
When: TBD. Students are welcome to register throughout the school year. * Lesson fees are prorated for students beginning later in the school year. (Please note that some months of the school year will have 3 lessons, other months may have 4 or 5 lessons).
Where: Accents Music Learning Centre - 183 Portland St. - St. James United Church Hall
Tuition: Monthly Tuition is $99 per month per student.
$50 Annual Registration and Materials Fee - this fee includes a student copy of the Full Voice Introductory Workbook, Vocal Flashcards for reinforcing learned concepts in class, sheet music, and other materials used by the students.
Tuition Includes:
♫ Weekly classes from November to June. (See school Calendar
for closures.

Please note that s

ome months of the school year will have 3 lessons, other months may have 4 or 5 lessons).


♫ Equal Monthly Billing - Auto pay the same amount every month so you know ahead of time exactly what to budget.
♫ 3 Missed Lesson Group Classes - if you need to miss a class, we have extra classes throughout the year that you can join! These are a great opportunity for our students to create and have fun with their peers.
♫ 2-3 Performance Recitals each year - Free Admission! Bring along family and friends.
♫ Special Group Workshops available only to Accents Music Learning Centre students. Topics may include song writing, acting, music history, audition and performance tips.
♫ Practice incentives, Music Centre wide challenges, prizes, lesson specific games, printed materials and more!

---
♫ We are adding new classes and programs all of the time here at Accents Music! Come together with new friends and explore music, have fun and learn as a group. Contact Us for further information. ♫
Waitlist Classes:
Adult Songbirds - Group Singing Class (19+) (waitlist available)
Tiny Twinkles Baby and Toddler Music Classes (waitlist available)
Complete a registration form at the "Register Now" link to be added to the Waitlist for upcoming classes!

---
Are you interested in having Accents Music Learning Centre run a Group Class for your organization?
Contact Us to discuss all of our available programs!