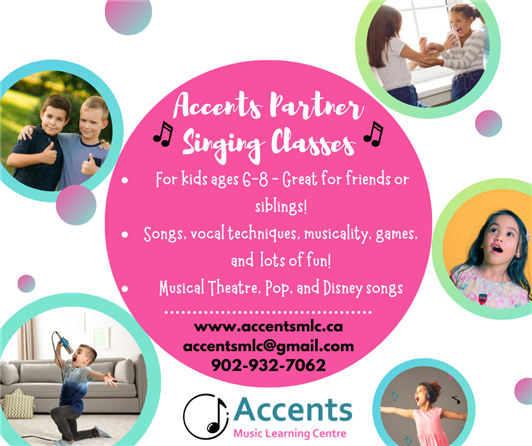 ♫ Accents Partner Singing Classes ♫
Our partner singing program is the best first step for kids who love to sing! In this exciting 45 minute weekly class, students will be introduced to healthy vocal techniques through breathing and vocal exercises, sight reading and ear training, fun games, and singing their favourite songs!
Why Partner Singing Classes?
Children under the age of 9 may not be ready yet for a private 30 - 45 minute voice lesson. However, this is a great time to be introducing them to the foundations of music and singing. Partner classes allow them to experience a voice lesson with a sibling or friend!
Learning with a partner maintains the FUN and PLAY that this age group really enjoys!

It is an opportunity for a shy child to build confidence singing solos and duets with a partner.

We can arrange for your child to have a partner lesson with someone they already know or with a new friend!
$89 monthly tuition per student - 36 weekly lessons from September to June; 2 performance recitals
Annual registration fee of $25 per student. Any additional family members will pay a reduced fee of $10. This fee is used towards studio supplies, sheet music and lyric sheets, prizes, games and other class materials used for the students.

---
Are you interested in having Accents Music Learning Centre run a Group Class for your organization?
Contact Us to discuss all of our available programs!